ITB Berlin 2023 held from 7 – 9 March has been the talk of the hospitality industry since Day 1. As we conclude the month, still the discussions about ITB Berlin (Internationale Tourismus-Börse Berlin) are in full swing. The visitors/exhibitors are in no mood to give pause to the thrill and excitement of this successful event.
Like every year, RateTiger by eRevMax exhibited at this World's Leading Travel Trade Show and had a great time. We weren't sure of what was going to happen as the doors of ITB Berlin had opened after 3 years, but undoubtedly it was a spectacular event bringing a boost to our business – as usual.
After a break of 3 years due to the pandemic the slogan for this year was "Open For Change". Following its slogan, this was the first time ITB Berlin hosted the event in person after 3 years bringing together people from the hotel and travel tech industry.
Open For Change
After a pause of 3 years due to the pandemic the slogan for this year was "Open for Change". Resonating its slogan, ITB Berlin hosted the event by bringing people together from the hotel and travel tech ecosystem to drive change within the industry.
This 3-day event welcomed 90,000+ attendees from over 180 countries around the world making it one of the biggest centers of attraction and confirming it as one of the leading platforms. The entire hall was filled with laughter, warmth and excitement representing the value of face-to-face meetings.
With around 5500 exhibitors showcasing their business, performances from different regions, conferences, evening events on the exhibition ground, travel talks all together reflected people's desire to meet and greet in person.
Welcome to RateTiger's Booth
Across the engaging sessions, our booth attracted a lot of industry professionals and team RateTiger was pleased to network with customers and partners in person.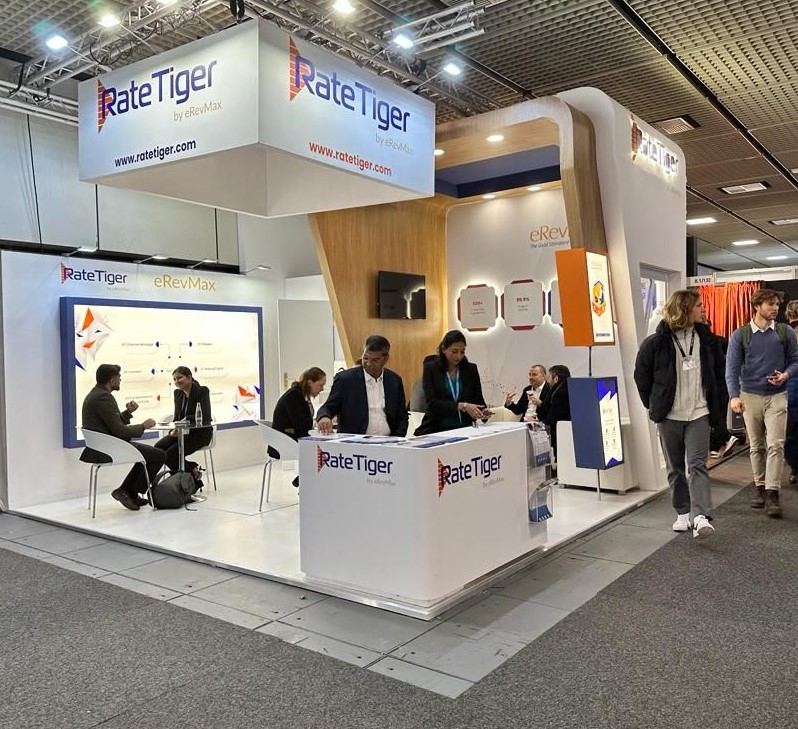 Just like the theme of ITB Berlin, we witnessed that the entire industry is Open to Change hugging the concept of Socially Responsible and Sustainable Tourism. Hotels were keen to not only digitalize the booking process but also have a simplified and efficient online hotel management solution.
Having the opportunity to connect with hotel owners, OTAs and other industry experts, we witnessed how the hospitality industry is continuously accelerating towards innovation. Seeing the zeal among hoteliers to simplify their booking process and eagerness to learn about RateTiger Channel Manager, Rate Shopper and other products, our excitement rose to a new level.
We received overwhelming responses from our various stakeholders be it clients, partners, friends as well as newcomers in the industry. With international participation growing from 50% in 2019 to 70% in 2023, it gave us the opportunity to introduce ourselves and pitch our products in new regions.
Carrying our bags of swotting, success, sales and satisfaction, we are looking forward to optimizing our products and strategies as per the industry trends to keep accelerating our business.
Next Stop
After a successful ITB Berlin 2023, team RateTiger will be glad to see you at the following events:
ITB India: Join us at the ITB India to be held in Mumbai from 26-28 April 2023.
ATM Dubai: Visit our Booth SS1, TT1072 to be held in Dubai from 1-4 May 2023.
See you there!
To know more, connect with us on:
For Sales related queries: sales@erevmax.com
For Marketing related queries: marketing@erevmax.com