Every traveler has a maximum amount that they are willing to pay for their accommodation. Whether you run a 5-star hotel or a boutique villa, the goal of all hoteliers is the same – Revenue Maximization. Apprehending this value as closely as possible is the hallmark of a successful hotel. For which you implement various revenue management techniques and strategies to upscale yourself in an inclusive, responsible and sustainable way. However, the key to scoring a goal in revenue management is direct bookings.
We all know that the way to this is by customizing your booking engine, digital marketing strategies, and website optimization. But we tend to miss the power of data in achieving direct bookings. For this, you just do not need to have the right data source. It is equivalently important to analyze the data in its true sense to understand its importance and market value.
Data from the booking engine essentially helps you to understand market trends, analyze past experiences and give a competitive advantage of pricing strategy. In short, data from the hotel booking engine is not only a source of direct bookings but also shows you the way to strategize your marketing efforts directly to the guests.
Benefits of Booking Engine Data Points
The data from Hotel Booking Engine is a source of both direct and indirect revenue. Your booking engine is not only the most profitable source of direct booking but also the most trusted source of data. Directly, the booking engine brings direct booking to your hotel saving you from the commission paid to 3rd parties like OTAs, GDS and metasearch. Indirectly, this data educates on customer behavior and booking patterns guiding you to strategize your marketing efforts in the right way.
Let us have a look at how the data points in Booking Engine help in optimizing Revenue Management.
Key Data Points in Booking Engine
Customer Segmentation
Guests are the foremost important part of hotel marketing and room pricing. Defining groups of travelers who visit your hotel and avail services can enable you to understand their different needs and preferences. Data that tells you what age, location or purpose of travel your guests have, opens up opportunities to target quality leads and convert potential guests into confirmed bookings.
The major different segmentation of guests could be:
Geographic data: location of guests
Demographic Data: age, gender, marital status
Purpose of Travel: business, sport event, family vacation
Traveler status: new or returning
Stay duration
Each and every group of guests bring an added opportunity of revenue with itself. Keeping a close tab on customers visiting gives you an idea of who your loyal customers are, which section of the customers opt for maximum cancellations or people of which category makes the reservation in advance. You can give special offers to pre-bookers and regular customers to have them revisit.
The more you analyze the customer data better you can create your marketing strategy and direct your ads to the right segment.
2. Market Analysis
Speaking of market analysis, you need to be updated with both what the guests are looking for and what your competitors are offering. When guests feel like they are getting an optimized value of service for the amount they paid, they are ready to spend more and go there. To increase occupancy through the booking engine it is crucial to understand the customer's perspective.
This, for a hotel, serves as a basis for choosing the right distribution channels, setting the right prices, engaging more guests by promoting quality content and launching the right campaigns to drive more direct bookings. If your past record shows that during a particular time of the year or season or festival the number of visitors in the city increases, then it's the time to get the situation to your advantage with exciting room packages.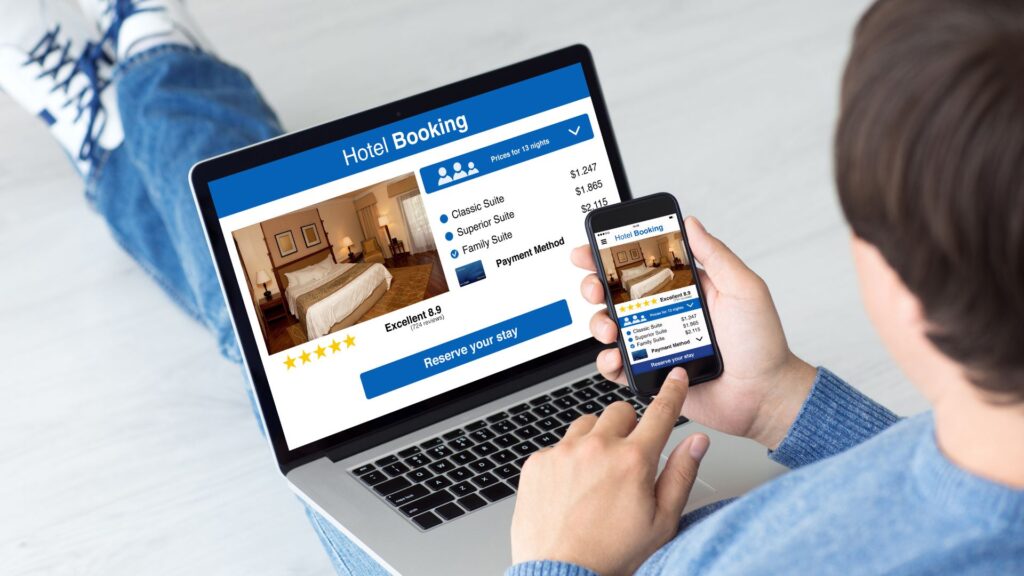 3. Demand Forecasting
Guest demands are always fluctuating depending on different factors like events in the area, seasons, festivals, etc. Analysing information as to when the demand is more enables you to set room rates accordingly.
For example, if the maximum bookings your hotel receives from your website is on a particular day of the week, and it becomes a trend then it can be a good move to offer special offers for that day.  Analysing the data to create a personalised experience is an effective way of optimizing revenue. Predicting when the demand will increase or decrease as per your past records can help hotels develop effective marketing, pricing and distribution strategies for maximum revenue.
4. Data Source
Speaking of online bookings, what matters the most is convenience and flexibility. In this digital age where everything is at your fingertips, it is essential to have a mobile-friendly website to give people the ease to book their stay from anywhere and everywhere.
Keeping a record of the device and platform used by travelers for hotel reservations, your boking engine data source gives you the percentage of people using which device. Approximately, 72% of US travelers book their hotel on their mobile via the hotel website or mobile app.
It can tell you about the sources from which guests are making their reservations – it could be your hotel app or any ad featured on a nearby attraction page. Knowing the source from where your hotels get the maximum booking helps you strategize your sales plans accordingly.
5. Lead Time
Lead time is the number of days between the date of booking and the date of arrival at the hotel. The lead time depends largely on the purpose of travel. For example, the lead time for a business traveler maybe 10 days but for a leisure traveler it could be two months. Knowing the lead time for reservations helps hotels to start planning and marketing upsells targeting a specific group of travelers. Let us take the example of the leisure traveler. By knowing the lead time, you can plan out special packages or personalized services that will enable you to earn that extra revenue.
6. Guest Profiling and Loyalty
A direst booking allows hoteliers to own the guest booking journey and information. Once a guest completes a stay, a profile is created in the hotel system. Keeping a record of the guests and their visits to your property or the properties within your hotel chain helps you know which clients are coming back. Guest profiling also helps in understanding their behavior, booking patterns, and service expectations. A loyal guest helps hotels reduce guest acquisition costs, making it the most profitable booking source.
Takeaway
The data alone is of no use until you know how to use it. You may have all the data you need but to maximize revenue, you must be aware of what to do with that data. Now that you have the data plus you know to read it, it's time to bring value out of the stored Booking Engine data points and maximize your revenue.