Tripadvisor is one of the largest online travel portals and online aggregation tool offering hotel reviews, travel advice, reservations and more. For hoteliers, Tripadvisor is a metasearch engine offering powerful marketing possibilities with free and paid listings as well as Cost-Per-Click and Instant Booking functionalities. How to use Tripadvisor to its fullest extend? Let's dive in!
Table of Content:
"It takes 20 years to build a reputation and five minutes to ruin it. If you think about that, you'll do things differently." — Warren Buffet
One of the most valuable assets for any business is reputation and for the hotel industry, it's even more critical.
While the world of travel and tourism is one of the biggest and flourishing sectors, survival in this world isn't easy. With a new hotel opening up in the vicinity of every 10km or even shorter distance, hotel business demands visibility, exposure, amenities, and quality service.
That's why Tripadvisor remains a key channel for a hotel. With over 1 billion reviews on its site, Tripadvisor is one of the most trusted travel research platforms for potential guests when they evaluate hotels.

In this blog, we are collaborating with HotelMinder to unlock the power of Tripadvisor for Hotels.

Getting Started: What is Tripadvisor?
Started as a travel review platform, Tripadvisor is one of the largest online travel portals offering online hotel reservations and bookings for transportation, lodging, travel experiences, and restaurants. With over 463 million people visiting the platform every month to plan their trip and make bookings, it's often the first place of research for various travelers.
Tripadvisor has been one of the early companies to enter into the Metasearch space with TripConnect. The platform acts as an online aggregation tool where they compile rate and availability of a property from different online sources and present it to the user in a consistent and user-friendly format. The site currently has a listing of over 1.4 million hotels, inns, bed and breakfasts and specialty lodging, as well as 842,000 rental properties.
While online travel agencies often dominate the metasearch advertising space, thanks to their budgetary allocation, it also gives hotels an opportunity to drive travelers to their website through effective campaign.
Tripadvisor for Hotels
Cost-Per-Click
With Tripadvisor's Cost-Per-Click campaign, hotels can get spotlight on their direct rates and availability — and drive booking-ready travelers straight to their website's booking page. Independent hotels can also take part in the campaign through Tripadvisor where their rates and availability will be displayed alongside those of Online Travel Agents (OTAs) directly on the property's Tripadvisor listing in high-profile Price Finder results. Whenever a user clicks on the hotel's direct listing, it will take them to the hotel's official website (booking engine). Tripadvisor charges a "cost per click" fee whenever this link is clicked by the customer.
Instant Booking
The Instant Booking feature is only available to users of USA, United Kingdom, Australia, Canada, India, Ireland, Malaysia, New Zealand Philippines, Singapore, and South Africa. Travelers in other countries will not see the Instant Booking option. With Instant Booking, potential guests get to see hotel's live rates and availability on Tripadvisor. Hotels will be able to capture the bookings in real-time through its connectivity partner on a simple pay-for-stays commission basis.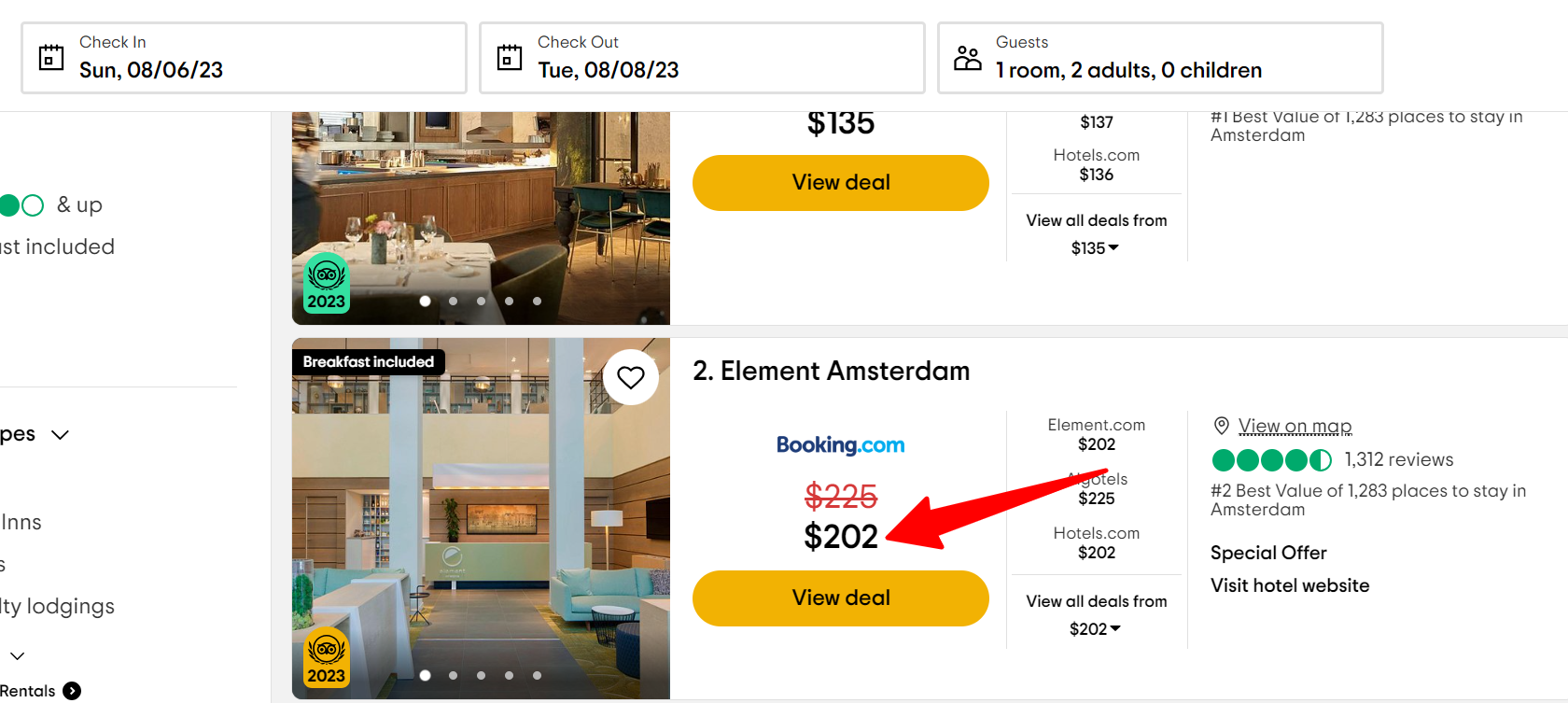 Hotel Instant Booking on Tripadvisor
Benefits of Listing Your Hotel on Tripadvisor
Travelers use Tripadvisor to check the rank of the accommodation, while the accommodation owners list their property here to increase their hotel's ranking. Let's see how having a Tripadvisor profile is beneficial for a hotel:
It tells the travelers that your hotel exists at so and so location and lists out the amenities you offer.
It gives you the freedom to showcase your property the way you want by adding a description, pictures, etc.
Multiplying your online reach, it helps you empower your business by attracting more bookings.
Availing the advantage of promoting your brand, you can lure guests to visit your brand's website and make a direct booking.
Engage with your customers and make them feel special by immediately replying to their reviews and offering them special offers.
The best of all, a Tripadvisor hotel listing is 100% free; but note that you will be asked to pay for a yearly business subscription for a direct link to your website and other various promotional options.
Steps to Add Your Business on Tripadvisor
Now, when you know the perks of listing your hotel on Tripadvisor, it's time to check the process of listing:
Step 1. Join Tripadvisor
The first and foremost step is to create your account on Tripadvisor. Simply, click on the "Join" button on the upper right-hand corner and you are ready to go.
Step 2. Search for your hotel on Tripadvisor
The unique part of this platform is that anyone can create a listing on Tripadvisor: both hotel owners and customers.
So, as a business owner your next step is to type the hotel name in the search box to find if your property is already listed or not. If you are lucky enough to find your hotel name in the dropdown menu, then go to step 3 or else skip to step 4.
Step 3. Claim your business
If you find your hotel is already listed by a customer, then it is time to claim your business. Click on the "Claim Your Business" option below the hotel name and get started.
Remember, Tripadvisor allows only 1 listing per property. So, you won't be able to create a new listing in the same hotel name and you need to claim your property proving you are the owner of it.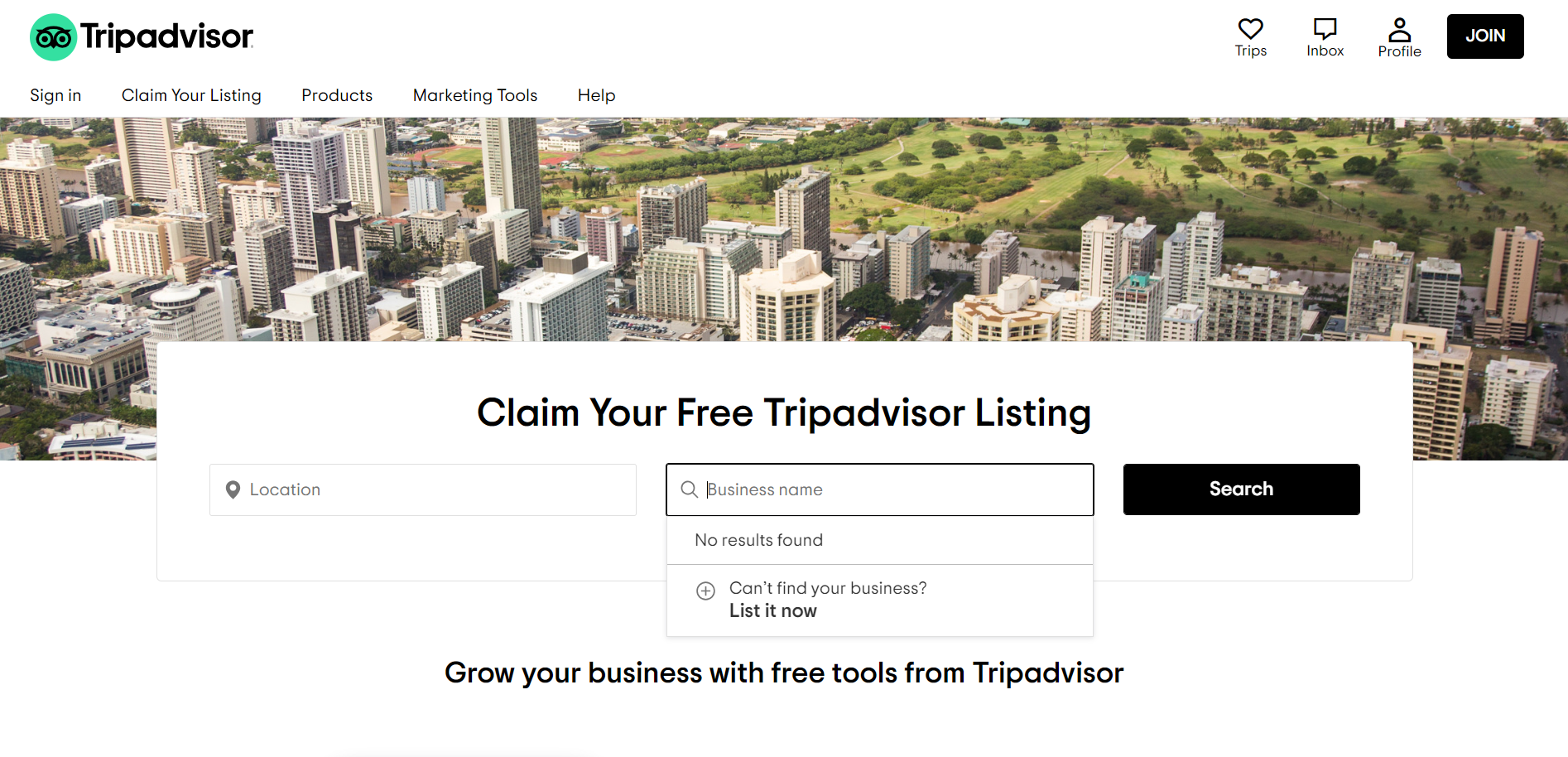 Claim your free Tripadvisor listing
Step 4: Request a listing
If you didn't find your hotel name, then click on the "Request Listing" option below the search box to list your property on Tripadvisor. This will take you to a new page where you will be asked to enter your business information.
Step 5: Enter your information
Enter your business details: Business category, Name, Address, Contact no., when was the hotel started, and other property details. Remember, these details will be visible to every person searching for your hotel on Tripadvisor and will induce their decision to book a room in your hotel or not. Once done, your profile will be created on Tripadvisor.
Once done, you are all set!
Grab Travelers' Attention with Amazing Photos on Tripadvisor
Graphics appeal to the eye much faster than the mind takes to decode the text! Listings with photos have a competitive advantage over other hotels not showcasing any pictures of their property. Adding high-quality images and videos not only gives the traveler a virtual tour of your accommodation but also increases your ranking on Tripadvisor website.
Research shows that the viewers spend more time scrolling through the profiles of hotels that have 30 or more property images than the hotels with less or no images. Let's check out the Do's and Do Not's of Tripadvisor photography.
Do's and Don'ts of adding photos to your Tripadvisor listing
Do use clear, original, high-quality images.
Don't show your skills in graphic designing.
Do mix your pictures of different rooms, lobby, and other areas.
Don't share downloaded pictures from Google.
Do upload pictures of different seasons and activities.
Don't share confusing collage images.
How Does Tripadvisor Rank Hotels?
Tripadvisor's ranking algorithm works on 3 simple elements: quantity, quality, and the recency of the reviews.
How many reviews are there on your profile? What is the average frequency of the reviews?
How relevant are the reviews? Whether guests are talking about the property/ service in the review or not
When was the last review received? Was it before the pandemic?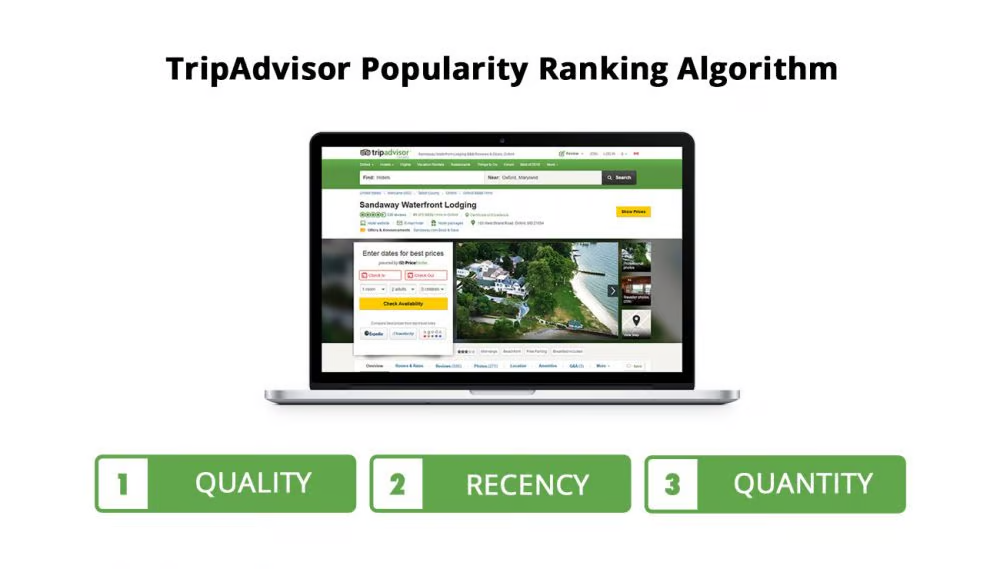 Tripadvisor Popularity Ranking Algorithm
A hotel business with consistently good reviews is considered to be a good property, and ranks higher on Tripadvisor with increased chance of receiving bookings. This is how reviews play a key role in deciding your rank on Tripadvisor.
Manage Reviews on Your Business Profile
Now when you have created your listing, entered business information, uploaded images and you have started receiving bookings also, it's time to manage your bookings. Remember, reviews play a big role in getting you your next booking plus ranking higher on Tripadvisor. Nearly 72% of customers book their stay based on the reviews. Manage your reviews in 2 simple steps:
Ask for reviews
Start with asking your guests to share their experience of staying at your property. Do not hesitate! Request them to leave their feedback irrespective of whether it is good or bad. You may ask for reviews by word of mouth at the time of check-out and also send a review link via email.
Do not let any review go unattended. A thank you message to a good review increases the users trust on you and makes them feel special. Replying to a negative review is more important. Reason being it shows your guests that you value them and their feedback matters to you. This instills a sense of indirect trust and respect among the customer.
Optimize Your Listing on Tripadvisor
Listing your business on Tripadvisor is the first step to let travelers know about the existence of your hotel. But listing isn't enough! You need to keep updating your details, upload latest images and most important of all keep a track of your reviews and customer feedback. It is a continuous exercise and should be part of your overall hotel marketing and distribution portfolio.